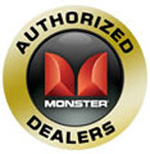 Audio Out is a official Monster re-seller.
Big Sound in a Small Package
Don't let the small size or name fool you.
These little guys pack a big Monster sound that you'll find hard to believe, even after you listen to them.


It's All About Knowing How
After building some of the best performing headphones in the world, Monster knows how it's done.
Next, our challenge was to see how small we could get them.
The result?
Lil' Jamz.
Big sound.


How Does Something So Small Have So Much Bass?
That's the magic; not only low, but with punch, almost like being at the club.
Plus, Lil' Jamz are so small and light, you can take them anywhere.


Solid For a Reason
These lightweight gems are solid, and for good reason.
Unlike inexpensive plastic buds, Lil Jamz are made of solid metal that doesn't resonate, so all you hear is the music, with no artificial vibrations to pollute the sound.
That's why the music is crystal clear and razor sharp with bass that is super tight.
Plus, these little babies are nearly indestructible.
With ControlTalk
With the built-in ControlTalk remote on the headphone cable, you'll enjoy quick-access music playback control.
Plus, the high-grade mic and high-resolution, sound-isolating headphones all combine to let you hear and be heard much more clearly and conveniently than you ever could with the phone to your ear.


Features & Specificatins:
Advanced driver design for extended full range sound.
Solid, precision-machined single-billet metal housing cancels unwanted vibrations for the purest sound.
Scratch resistant hard black chrome finish.
Rugged strain relief protects the cable and withstands heavy-duty use.
Advanced Monster Cable patented technologies for accurate and clear audio.