Sound and Fashion, All in One Incredible Headphone
Heartbeats are not only authentically and stylistically Lady Gaga, but sonically by Dr. Dre.
With club calibre bass, crystal clarity and power that lets you hear every essential note, no other headphone looks or sounds like Heartbeats.


Sound Matters Because the Music Matters
A great song from a true artist has the power to move you to tears—or the dance floor.
The better your music sounds, the more you feel it; that's why sound matters!
Heartbeats faithfully reproduce artists' vocals and the music, so you can hear the emotion your favourite singers put into it.
Get ready to experience your music like never before.

In-Ear Noise Isolation
Because everyone's ears are different, Heartbeats include multiple sizes and shapes of Monster Performance Eartips.
You'll get a comfortable, sound-isolating seal that keeps all the sound you want (your music!) in and all the unwanted external noise out.
With Heartbeats, you'll hear every precious note, no matter how much noise is coming from the outside world.

No Tangles, More Time to Play
Earbuds are convenient, taking the time to untangle them is not.
Heartbeats features Monster's innovative headphone cable that not only sounds great, but is completely tangle-free.

Monster MN129459 Heartbeats by Lady Gaga High Performance In Earphones Features & Specifications:
Accurate speaker design delivers music with extreme clarity and deep bass.
Large high-efficiency drivers play loud without distortion.
Wired with Monster Cable for clear and accurate sound, with reduced interference.
Ultra-flexible and tangle free cable.
Noise cancelling in ear design.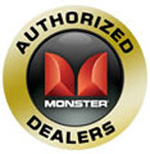 Audio Out is a official Monster re-seller.